Objectives



Understand what Filter Logic is and when to use it

Understand how to add Filter Logic to your reports
What is Filter Logic?



If you have more than one filter in a report, adding filter logic will let you specify conditions for your filters to group, partition, and even exclude filter elements from a report with everyday language like AND, OR and NOT. When you add filters to a report, by default, all filters are related as AND logic.

All your report filters will be numbered. Your first filter is Filter 1 and your second filter is Filter 2. You apply filter logic based on these numbers.

The three filter logic operators are:

AND: Finds records that match both values

OR: Finds records that match either value

NOT: Finds records that exclude values

For example: You would like a report on all MYCE Quote type = Groups with a Closed status not equal to Lost, Cancelled, Refused and with either a revenue greater or equal to 10.000 EUR or a number of Pax greater or equal to 100.

Filter 1 = Type equals Groups

Filter 2 = Closed status not equal to Lost, Cancelled, Refused
Filter 3= Total Amount excluding Tax greater or equal 10.000€

Filter 4= Pax greater or equal 50

Your filter logic will be 1 AND 2 AND (3 OR 4)

How to add Filter Logic to Reports
1. From your report, click on 'Filters'

2. Click the down arrow

3. Select 'Add Filter Logic'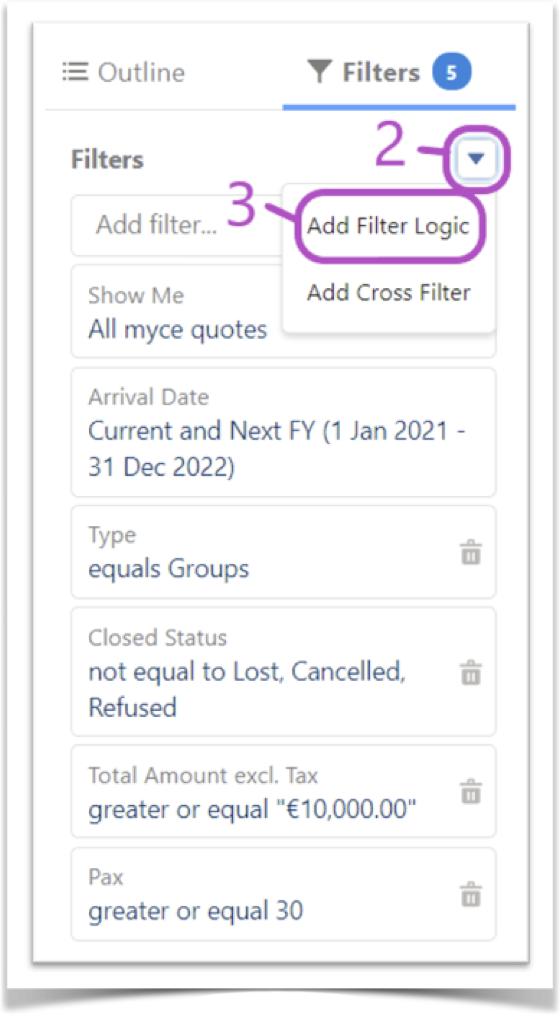 4. By default all filters will be related as AND logic (1). You can edit the logic depending on your requirements (2).


5. Click on 'Apply' when done.

Useful Links...