Learning Objectives
At the end of this lesson you will know ….
Which tools you can use to prospect accounts

Where to record your prospecting calls
Using the System to Prospect Accounts and find New Business
One of your sales activities as a sales manager could be business development and prospecting accounts to uncover new business for the hotel. Some hotels may even have prospecting targets for sales colleagues to achieve on a monthly basis.
While you can use purchased lists, network and use social media to find companies to call and research, you can also leverage Thynk if you are using it well and have good data.
The key is: if you have good data!
Review Lost Business Reports - when bookings are lost or turned down, sometimes the sales manager doesn't have time to really talk to the customer to ask if they have future potential events. It's always a good idea to review lost business reports, click into the account from the report you see and create a future prospecting task for you to follow up on.

Review 'Requests' /Inquiries - Some hotels use the 'Requests' functionality to keep track of all leads and inquiries that they feel may not materialize. As you know, if you don't have much information or the account doesn't exist, 'Requests' are an easy place to put leads into. This makes it an obvious place to look and set up future prospecting tasks for those accounts, or contacts. We recommend looking at all Requests to see if you can prospect an account/contact, not just those that converted to a definite booking.
The 'Open Inquiries' report is useful as it shows you which are still open with future dates.

Review Accounts using Reports you may have marked to prospect in the future. If your hotel has an 'Account Rating' field, you could create a report to show you all your lower rated accounts, in a specific region (or market segment or Industry) to call on them and prospect for new business.

Activities - always use 'Activities' to input your sales calls, and to set new prospecting tasks for the future. These will show on 'Today's Tasks' on your Home Page, and act as a reminder to call these accounts.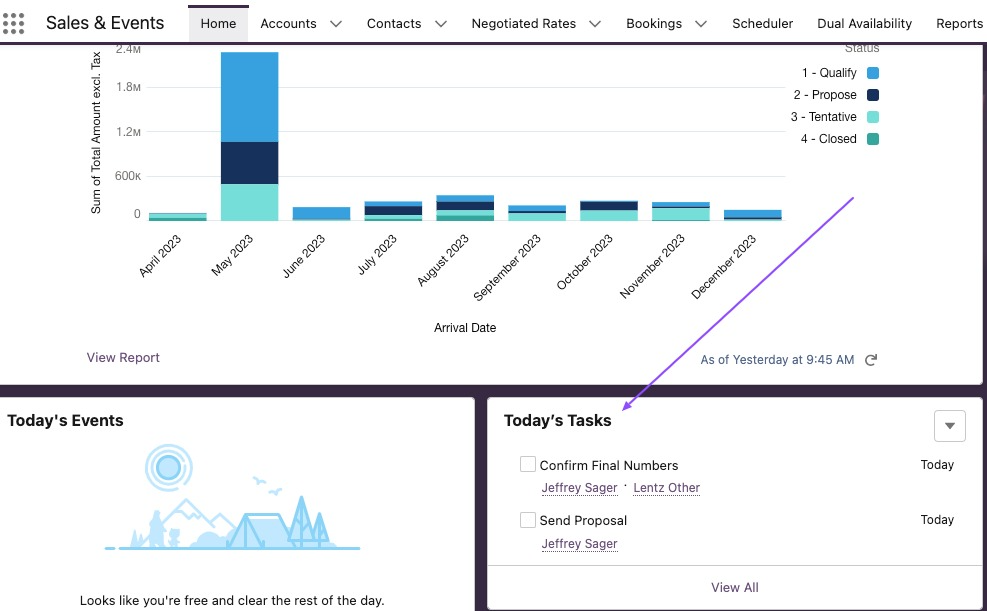 You can change the daily tasks to show you all future tasks. These will also show on your Activities Reports so your director of sales can see how many prospecting calls you are making. Make sure you act on these prospecting tasks and input your conversations or findings into the activity and mark them 'complete' or they will show as 'overdue' tasks!
While this isn't a lesson with how to do specific steps, here are some of the tools you can use:
Lost Business Report

Open Inquiries Report

Add future tasks with the subject: Prospecting, so you can then make the appropriate calls and keep track of prospecting calls

Account Activities, and 'Today's Tasks' on the dashboard. You can change this to show all future tasks.
Best Practices for Using Thynk for Prospecting
Regardless of which tools you use, always use Activities to track your prospecting tasks and calls, so you can report on your prospecting activities.

Use all the tools possible to help you find new business.