Overview: Reports & Dashboards
Objectives
Understand the differences between report, dashboard and report type.
Get familiar with Report and Dashboards features and concepts.

Reports and Dashboards provide the answers to the questions which are important for an organisation/business.

Reports and Dashboards can only report on data that resides in Salesforce, hence the importance of keeping your database updated and clean.
Reports



A report is a list of records (like MYCE Quote or Guests) that meet the criteria you define. You can
build reports
using pre-defined criteria or you can customise them with your own criteria and/or filters to get the data you need. It gives you access to data that resides in Salesforce and allows you to aggregate and analyse it in different ways.
Reports can be shared with other users via folders or can be exported to Microsoft Excel allowing you to customise their format and print or email them. You can even display them by adding a chart and choose a running user.
You can even schedule and subscribe to reports and receive notifications without having to manually run reports.
First of all, let's get familiar with Reports terminology.

Report Types



Choosing the right report type is one of the most important steps in building a report.

A Report Type is like a template; it determines the records (i.e MYCE Quote) and fields (i.e Arrival date) you will be able to see in your report. It will also control the filters available and the default columns.




Each report type has a primary object (i.e MYCE Quote, Accounts, Resources, etc) to which a related object

can be added

.

Example: The 'MYCE Quote' Report Type will only includes MYCE Quotes records. The MYCE Quote with Reservation Guest will includes MYCE Quotes records and Reservation Guest records.

Filters will limit the data that your report returns. Filters ensure that your report focuses on specific data. You can add up to 20 additional filters to a report directly in the Filters pane using

the Add filter... button or by selecting fields from the Outline pane.

For example, say your report returns all the MYCE Quote at your property, but you only want to see Closed Won MYCE Quotes for a specific user. Filter the report on the Owner field and Closed Status field.




Link multiple filters using "and," "or," and "not" operators to create sophisticated conditions.
Offset priority conditions using parentheses and nested parentheses.

Running Users: Run Report As



The Running User determines whose data is visible on the report or dashboard. The running user must have access to the folder in which the report or dashboard is saved.


If the running user is a specific user, all reports and dashboard viewers see data based on the security settings of that user—regardless of their own personal security settings. For this reason, you'll want to choose the running user wisely, so as not to open up too much visibility.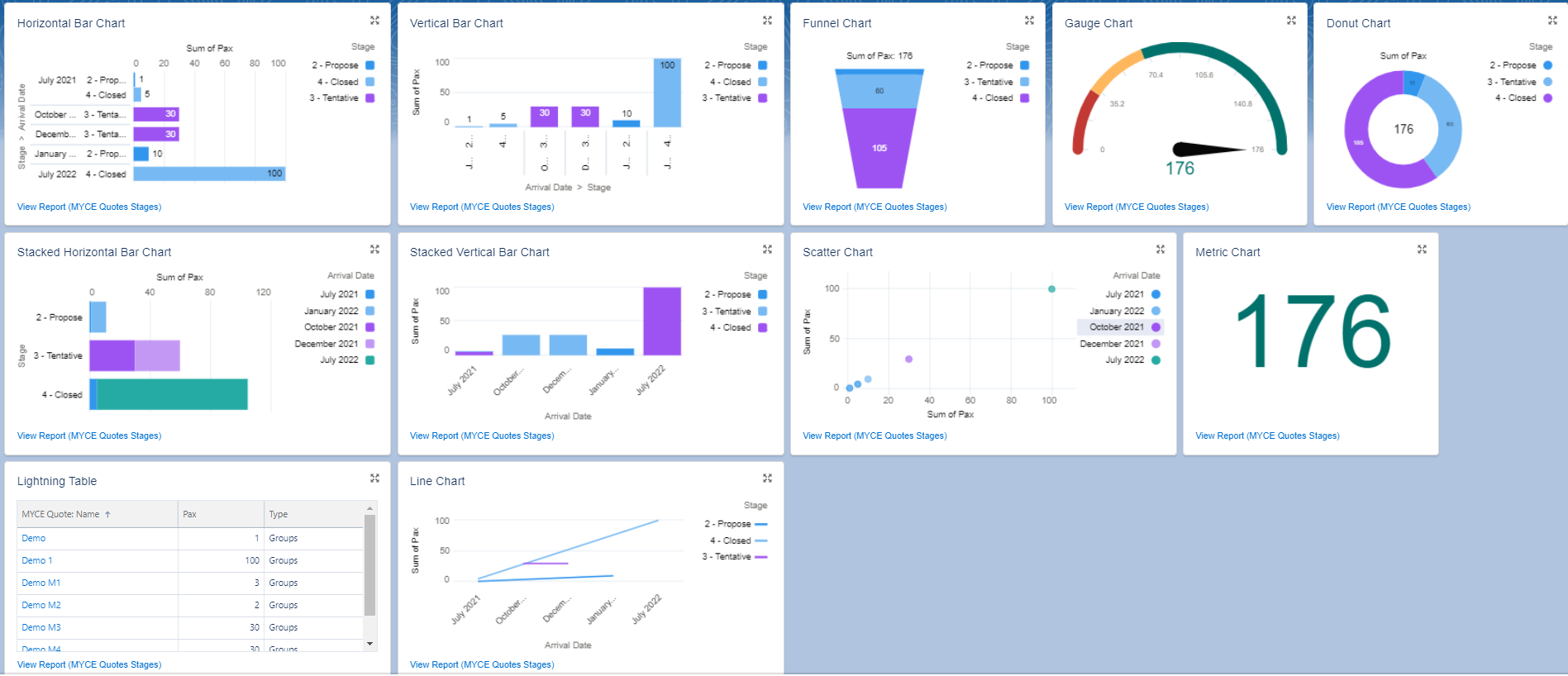 What is a Dashboard?
A dashboard is a visual representation of your report's data. You can display multiple dashboard components on a dashboard page using multiple reports that often have a related theme, like MYCE Quotes Revenue or Events.
Dashboards are closely connected with reports: for each dashboard components, there is a single source of report. However, you can use several times the same reports for different dashboard components on a single dashboard page.
Exactly as seen above about reports, dashboards are stored in folders. Thereby, you can determine who has the access to these folders in order to view, edit or manage them.

Be careful, to access dashboard components, you need to have access to the report used.
Dashboards will display data as of the last time the dashboard was refreshed. You can schedule a dashboard refresh and get it emailed automatically.

Dashboard Component



Dashboard Components are the visual blocks of a Dashboard. Each component is either a chart, gauge, metric or table.


Dynamic Dashboards



Dynamic Dashboards are dashboards for which the running user is always the logged-in user. This way, each user sees the dashboard according to their own access level.

Useful links...
Related Articles

Share, Schedule, and Subscribe to Reports

Objectives Understand how to share reports using folders Schedule and subscribe to reports Report Visibility and Folders To make sure that the right team members have access to the right data and reports, you can use reports visibility options and ...

PMS Account Overview

Overview Thynk centralizes POS and PMS data to offer a holistic view of every corporate account and direct contact, however, duplicate accounts and contacts, and 'dirty data' are often the unfortunate reality of any PMS or POS. Thynk offers a ...

Package Overview

What is a package? A package is a grouping of products that can be easily added to a quote. Packages are linked to a property, and should be created for any commonly sold products that your property offers in a bundle. Examples of packages are: B&B ...

Navigation Menu and Components

Navigation Menu and Components This article is created to provide a quick overview of the navigation menu and its components. Some users may call this the 'home page'. Customizable Brand Logo - your company logo should appear here. App Launcher ...

How to Build a Dashboard

Objectives Get familiar with dashboard feature and terminology Create a dashboard with the Dashboard Builder What is a Dashboard? Reports make it easy to access and visualise data to make it insightful and actionable. Dashboard take it one step ...