Share, Schedule, and Subscribe to Reports
Objectives



Understand how to share reports using folders

Schedule and subscribe to reports
Report Visibility and Folders



To make sure that the right team members have access to the right data and reports, you can use reports visibility options and folders. This will allow your team to organise and share reports according to their needs. Your admin controls who has access to the contents of a folder and can make a folder available to all users in the entire organisation or make it private so only the owner has access.

Reports Visibility Options
When running reports, you have the following visibility options:
Recent: A list of reports recently viewed. This is the Reports tab default view.

Created by Me: All reports you created.

Private Reports: All reports you created and can only be seen by you.

Public Reports: All reports saved in the Public Reports folder. These reports are available to everyone.

All Reports: All reports you have access to. Your reports and reports shared with you by others.


Default Folders

All folders: All folders you have access to.

Created by Me: Folders you created.

Shared with Me: Folders created by others and shared with you

Share a Report



By default, reports you create will be saved in your Private Reports folder. If you want other users to access your report, you will need to share your report by moving it to a public folder.

1.
From the Reports tab page, go to your '
Private Reports'
folder and click the down arrow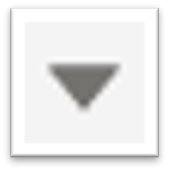 next to the report you want to share.
2. Click on 'Edit'


3. Click the down arrow next to 'Save' and click on 'Properties'


4. Select the folder where you want to save the report, then click on 'Save'.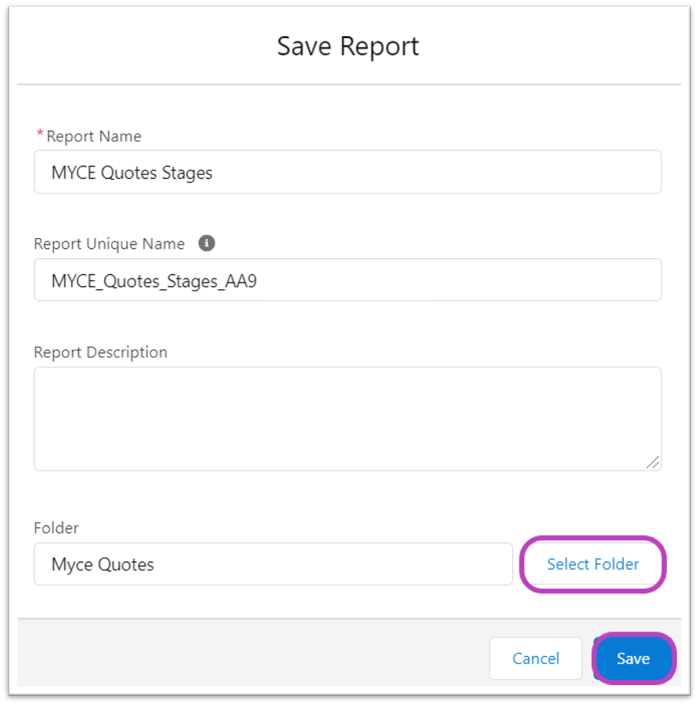 Now all users who have access to the folder you have selected will have access to the Report you created.
Schedule and Subscribe to a Report
If you frequently need to run or export a report, you can schedule or subscribe the report(s) to yourself and/or your team. This important feature automatically sends refreshed report results by email on the scheduled day.


You can schedule reports for the sales team for a weekly sales meeting, or run a Daily Events report for your operations team's weekly meetings.

If you send the scheduled report to other users, please make sure that all recipients have access to the folder where the report is saved.
From the Reports tab page, click the arrow next to the report to which you want to subscribe. Then select 'Subscribe' from the menu. If you've already subscribed to a report, but want to change the schedule, take the same action.

Set the S

ubscription Schedule.

Select the

Frequency, Day

and

Time

you would like to receive the report. The report is usually emailed within 30 minutes of the Preferred Start Time selected.



To have the results delivered as an attached files, click 'Attach File'

and select the attachment type, then click

'Save'

.

You are automatically selected as a '

Recipient'

. To add others or remove yourself, click '

Edit Recipients'

. Only the users, groups, or roles with permission to access the report are shown in the list of matches. Select from the matching options and click '

Add'.


Under '

Run Report As'

, specify whose perspective is used when running the report.




Me: You run the report,

and recipients see the same report data that you see.



Another Person:

Recipients see the same report data as the person you select. The person must have permission to run reports and have access to this report.




Optionally, you can also select 'Add conditions to this report'. The report is emailed only if all conditions are met.
Click on 'Save'.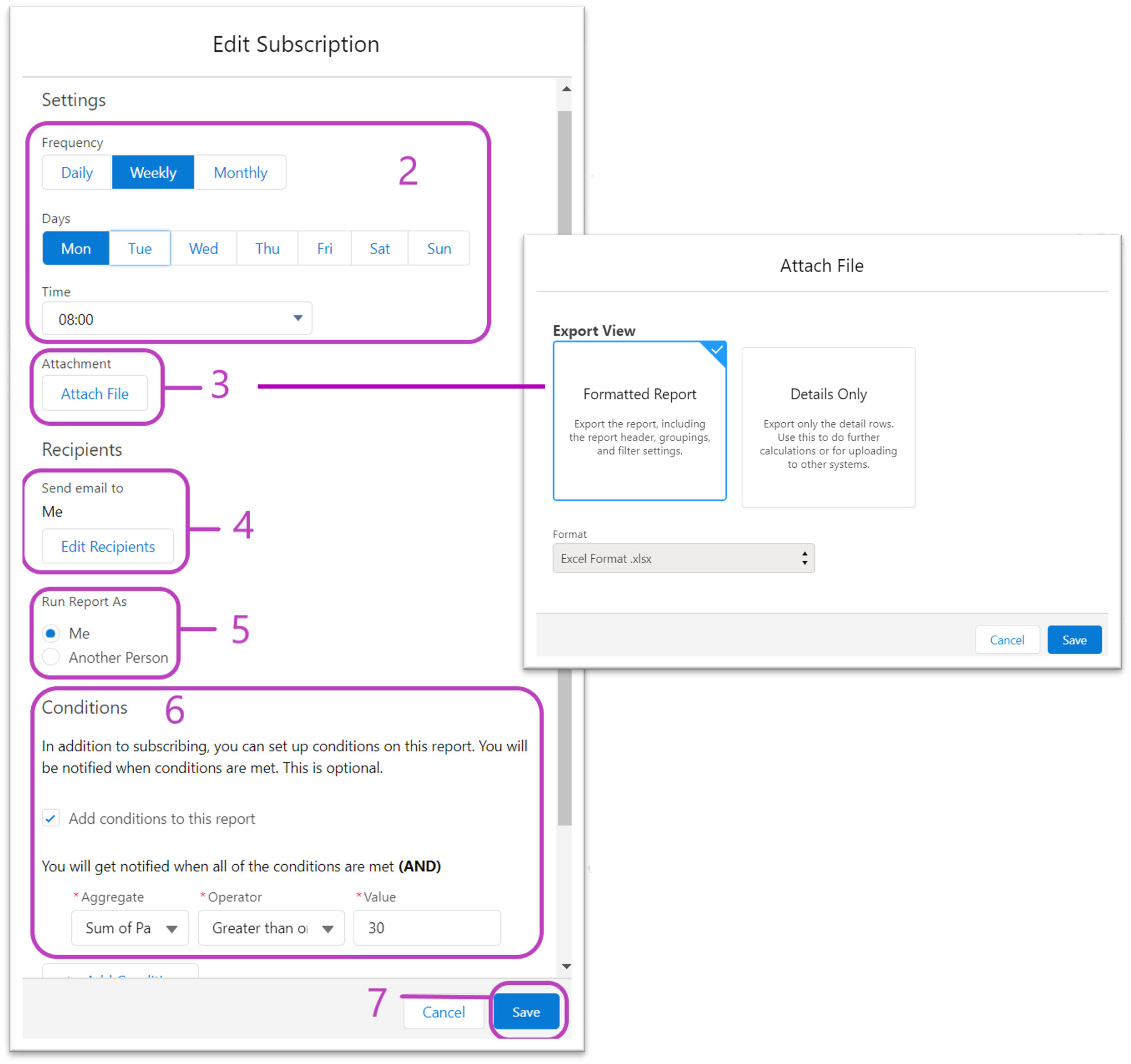 Useful Links...



Related Articles

Overview: Reports & Dashboards

Objectives Understand the differences between report, dashboard and report type. Get familiar with Report and Dashboards features and concepts. Reports and Dashboards provide the answers to the questions which are important for an ...

How to Edit Reports and Dashboards

Learning Objectives This article will teach you … How to make slight modifications to reports How to make modifications to dashboards Whom to contact if you need help with complex reports Editing Reports and Dashboards Reports and Dashboards are ...

Event Listing Report

Report Overview The Event Listing Report displays a list of events for a specified date range. Report Uses The sales and events team can use the report … To plan and forecast To post today's event information in the lobby for guests The sales and ...

How to Build a Dashboard

Objectives Get familiar with dashboard feature and terminology Create a dashboard with the Dashboard Builder What is a Dashboard? Reports make it easy to access and visualise data to make it insightful and actionable. Dashboard take it one step ...

Navigation Menu and Components

Navigation Menu and Components This article is created to provide a quick overview of the navigation menu and its components. Some users may call this the 'home page'. Customizable Brand Logo - your company logo should appear here. App Launcher ...