Start to Work with Accounts and Contacts


Objectives:
Know the difference between an Account and a Contact and be able to define the terms


Know how to use: create and edit your Accounts and Contacts



What is the Difference between...?
Accounts are companies with whom you are doing business. They may include third-party agencies.

Contacts are people working for these companies; working for accounts.

Several people/contacts might be assigned to the same accounts.


If you are doing business with only one person, note that this person will have a person account which is similar to the business account, except that this account does not have its own contacts.

How to Work with Accounts

By creating an Account, you will be able to gather all the information of the company, for example, address, website, key people that work there. It will allow you to remember specific needs and be proactive for any proposal.

When saved, the account will appear as an "Account" Record.

Within this new account record, you will also find a list of records such as:

People working in the company: the Contacts



Current and previous transactions

Specific requests


Information about the previous proposal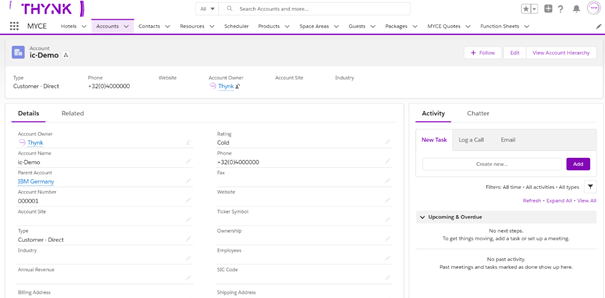 Your account evolves while the company evolves. It means you are able to edit and update the account whenever you need.

To update the information, click on the little pencil on the field you want to edit.

You can also use the Salesforce Mobile App and search the name of the account in the searching bar.


Note that only administrators can delete Accounts. As a standard Thynk user, you are able to create and update accounts, however, you will need the authorization of the administrator to delete them.


If you have more questions concerning the Accounts use, feel free to ask in Chatter!




Tracking detailed contact information results in a powerful database. Thynk allows you to gather the data you need to be more efficient in your business.


Learn "
How to create a New Contact?
" in our short article or
video.
When you create a Contact, it means that you are adding a lead or client to your database.
When you create a Contact, you must create it into an existing Account, thus we advise you to first create the Account. If you forgot to link your contact with an account, it will be hidden from all users, only administrators and managers can locate it.

When you create a Contact, you can decide or not to synchronize it with your PMS.

You can enter information such as:

Title: the position of your contact into the company



Email address

Lead source: from where did you find your Contact or how did the Contact find you?


Phone number



Etc.


The more information you fill, the more complete your contact's data will be.

To update the information, simply click on the little pencil on the field you want to edit.

Feel free to ask any question in the chatter if you need some more help.

Related Articles

Start to work with the scheduler

Work more efficiently and save time by using our Scheduler! The scheduler is made available to you in order to ease the creation and update of Quote Meeting Rooms. It also gives a full view on all current booking across meeting rooms and properties ...

Navigation and Tabs in Salesforce

Navigate easily through Salesforce thanks to the tabs and links at the top of each Salesforce page. If you are looking for a specific record (account, or contact etc), you can search using the 'quick find box' - see above. Looking for some ...

How to Change the Billing Address?

To edit the billing address of an account, go to Accounts Then select an account from the list; here we will select the Ic-demo2 account To start editing the account, click on 'Details' Scroll down to see the Billing Address section Click on the ...

Kanban

Thanks to the Kanban view, discover a visual summary for a selection of records.It will help you to work efficiently and keep your deals moving forward. What is a Kanban? A Kanban is a visual system managing your work in the course, gathering your ...

How to Create a New Contact?

Enhance your contact portfolio to better leverage your database. As Salesforce user, you can create as many new contacts as you need. To create a contact first click on the Contact object Create a new Contact record by clicking on '+ New Contact' ...