Scheduler (Function Diary)
Scheduler (Function Diary)
When checking availability of function space, you turn to the Scheduler (or Function Diary), where you can see available function rooms
(of one or multiple properties) along with those that have already been blocked. Here you can create a new event or manage existing ones. You can change the view to day, week, month, or custom date range.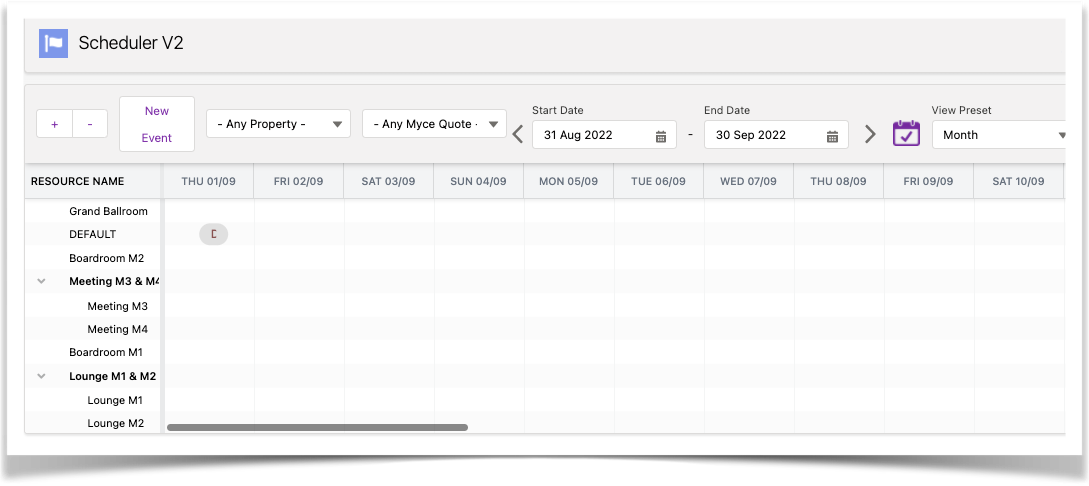 To Create a New Event
To create a new Quote Meeting Room, click on the 'New Event' button




Complete the fields to create your new event




MYCE Quote (mandatory) - Enter the name of the quote/booking the event relates to




Resource - Enter the function room being booked




Number of people attending the event




Reservation Status: Enter the status of the booking/or event




Start and end Date & Time




Click on 'Save' when finished.
Related Articles

What is a MYCE Quote?

As Salesforce user, you will create all group (MICE) bookings in THYNK. 'MYCE' Quotes are your MICE (Meetings, Incentive, Conferences, Exhibitions) group bookings. You can track them through four different proposal stages: Qualified Proposed ...

How to Create a New MYCE Quote

As Salesforce user, you can create MYCE Quote for each deal in progress. Your MYCE Quotes will help you to manage more efficiently your business. If you have doubt about the MYCE Quote meaning, feel free to refer you to the What is a MYCE Quote ...

MYCE Quote Stages (MICE Booking Status)

Every MYCE Quote (MICE booking) progresses through four different stages. The Four Stages on MYCE Quotes Qualified Proposed Tentative Closed Definitions of Stages Qualified - you have a received a lead for a group booking (or MYCE Quote) from a ...

Navigation and Tabs in Salesforce

Navigate easily through Salesforce thanks to the tabs and links at the top of each Salesforce page. If you are looking for a specific record (account, or contact etc), you can search using the 'quick find box' - see above. Looking for some ...

How to Create a Package

How to Create a Package To learn more about packages, read our Package Overview. See below for a step-by-step walkthrough on how to create a package. Note that only MYCE admins are able to create and modify packages. 1. Find the Packages tab and ...