Learning Objectives
Get a good idea of the flow of entering a new booking into Thynk

Understand that there are several ways of creating a new booking in Thynk
The Flow of Creating a Group Booking
Creating a booking involves many steps as there are quite a few parts to a booking - e.g. room types, function space blocking, packages, products and BEO items, activities/tasks, emailing proposals, contracts, BEOs.

This lesson will show you just the flow of creating a booking from the point of receiving a call from your customer to blocking it and sending the proposal. In the various lessons in your learning path, you will learn all the other details involved.
There are two ways you can create a new group booking. In this Knowledge Base, you will find specific help articles detailing each one of these methods.
Basically, you can create a new booking…
…. By checking guest room availability, and creating from the Home Page, or

… By finding the account or contact, and creating the booking from the account/contact, and then checking the availability while in the group booking.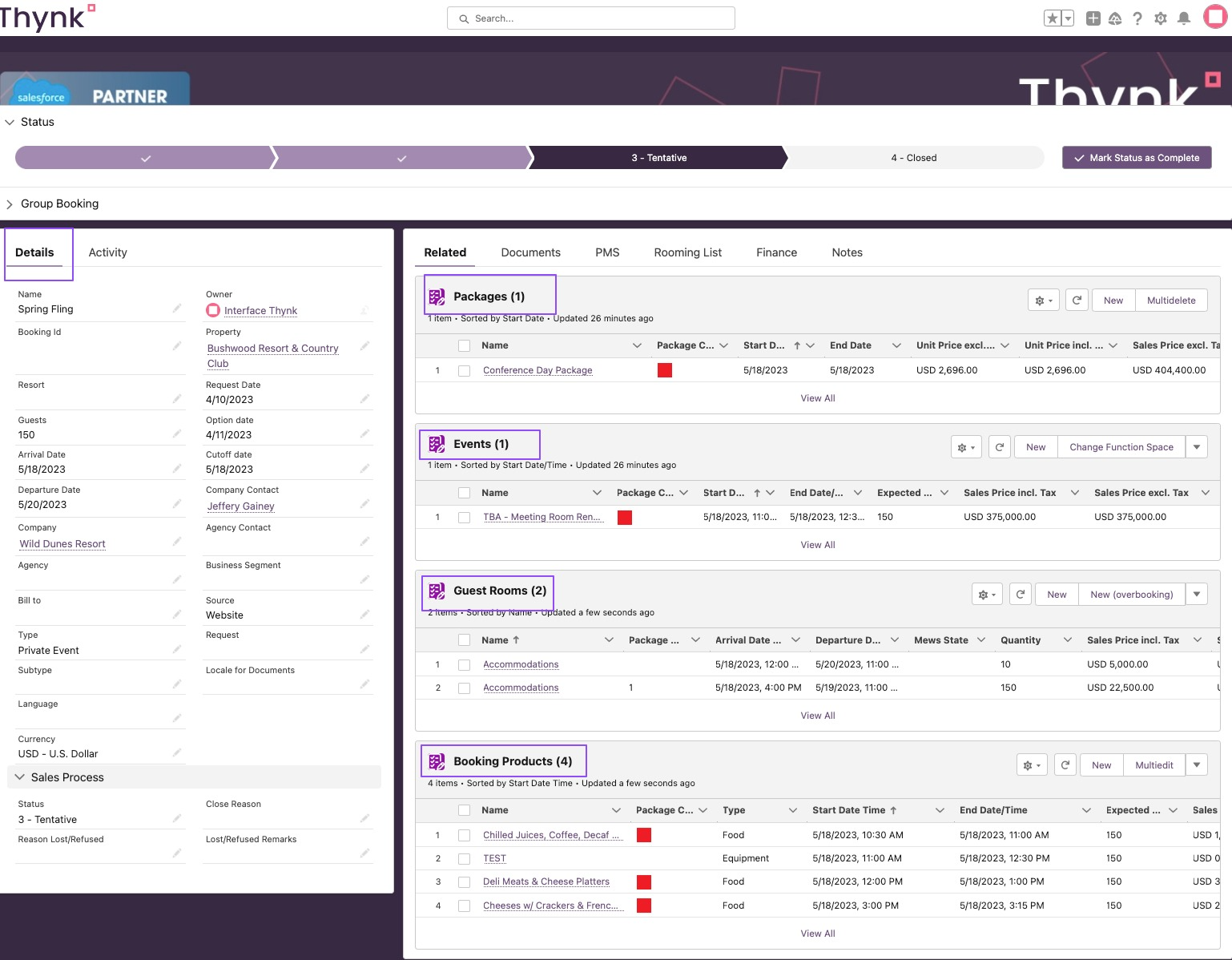 But for now, follow these steps to understand the flow of creating a new booking:
Whichever way you prefer to start the process, you will always first enter the booking's details, e.g. the meeting/function name, dates, number of guests, the contact on the booking, the account, the agency, booking type, etc.

Once the details are in and saved, you will enter the guest rooms by clicking onto the 'Room Block Manager', where you can enter the specific room types (single/double standard/king/deluxe etc.). You will notice that the dates are already here because you had entered this in the booking details.

The next step is the booking event. If the client wants to book meetings, lunch, dinner etc, you do this in the 'Events' section on the right side of the booking.

If this is just an initial lead/inquiry, you won't probably need to block packages or add BEO items and products, at this point, but if you have the information on their package requests, you can enter those now.

Once done with details, guest room types, events and packages, you can generate a proposal right from Thynk, and email it to your customer. There is no need to create manual proposals. Thynk will also automatically save the proposal so you won't have to upload it manually. Same goes for contracts and BEOs

This video just showed you the flow of creating a new booking. Other Knowledge Base articles will explain how to enter room blocks, function space, packages, how to produce your documents etc.
Best Practices on Creating a New Group Booking
Your hotel will have a Standard Operating Procedure of what is considered a 'group booking', and it is usually based on a minimum number of room nights. Example: a group is anything with a minimum of 10 room nights. If a lead is less than your SOP, it doesn't belong in Thynk as a group booking but would be considered FIT or similar. Please check with your leadership if needed.

Regardless of which method you wish to use to create a new booking, you will always start with creating a shell of the booking, by the entering the booking details (e.g. meeting/function name, arrival/departure dates, rooms, number of guests, etc)

As always, it's important to get as much information as possible from your customer.